Võitsin oma seitsmenda Eesti meistritiitli 5000 m jooksus, ajaga 14.16.70. Teisena lõpetas klubikaaslane Allar Lamp ja kolmas oli Spordiklubi Sparta esindaja Roman Fosti. Võistluse muutis meeldejäävaks asjaolu, et tegemist oli selle suve kuumima päevaga Tallinnas. Temperatuuriks mõõdeti meie võistluse ajal lausa 34.2 kraadi, võistlustabloo näitas koguni 36 kraadist soojust.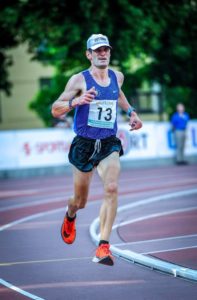 I took the lead after the first kilometer and ran towards to my seventh national title in 5000 m.

Tempo dikteerimise võtsin Roman Fostilt üle peale esimest kilomeetrit, kasvatasin edu lähimate jälitajate ees peaaegu kahesaja meetri peale. FOTO: Eesti Kergejõustik, Facebook
On Sunday, after my arrival from Colorado Springs I won my seventh Estonian Athletics National Championships title in 5000 m, clocked 14.16.70. The race was an extraordinary due to the high weather temperature. We had 34.2C at the starting line which is about 93.5F. This experience was very useful for me before European Athletics Championships in marathon on the 12th of August in Berlin. Got some good dips how to cool down my overheated body before, during and after the race. Before the race I was using the ice vest and the ice and drank regularly electrolyte drinks, during the race I used the ice and some cold water. It worked out well!