Pühapäeval 07. aprill algusega kell 9.00 jooksen oma elu kaheksanda maratoni Hannoveris. Hannoveri maratoni raames korraldatud erinevatel jooksudistantsidel osaleb ligi 26 000 inimest ning võistluse taseme poolest kuulub IAAFi (Rahvusvaheline Kergejõustikuliit) nimistus Silver Label maratonide hulka.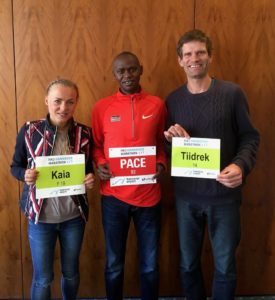 Päev enne starti koos Kaia ja tempotegijaga.

The day before the race with Kaia and the pacemaker.
On the 7th of April I am going to run my life time eighth marathon. Hannover Marathon is an enourmous event: more than 26 000 people are running on that day in this city. Hannover marathon is a IAAF Silver Label event. 
Hannoveri maratoniks olen valmistanud pikka aega. Tänase seisuga ei ole üle nelja kuu kodumaal viibinud, vaid hoopis treeninglaagrites kahes eri paigas. Kõige pealt 3.5 kuud Keenias ning seejärel kaks nädalat Hollandis. Treeningettevalmistus ja maratoni valik on korduvalt nelja kuu jooksul muutunud, sellegipoolest olen täna üsnagi heas võistlusvormis. Seda näitab ka hiljutine Alpheni 20 km jooksuvõistluse võit. Plaanin alustada tavapäratult kiiresti, ehk poolmaratoni vaheaeg võiks tulla 66.00. Praeguse seisuga võistlustrass ja ilma on selleks soosivad.
My preparations for the Hannover marathon have been 4 months long. At first three and half months in Kenya and the last two weeks in Netherlands. My preparation plans have been changed due to the choice of the spring's marathon. My shape is good and I am planning to take some risks. The first half of the  marathon should be around 66 minutes, which is a huge step forward in my marathon experience. The course and the weather are promising!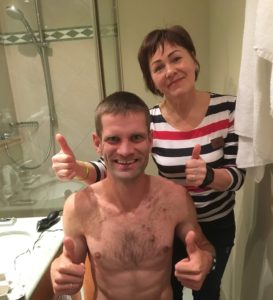 A great and a productive meeting at the hotel room.

Suurepärane ja produktiivne kohtumine hotelliruumis. AITÄH TANJA!
Minu mänedžer Charles Paanakker ja korraldajad on omalt poolt palju kaasa aidanud. Näiteks saan endale isikliku tempotegija, kes jookseb mulle sobivas tempos. Lisaks on meeldivalt üllatavaid ning minule sobivaid kokkusaatumisi teisigi. Näiteks täna hommikul lõikas Eesti maratoni meistri Kaia Lepiku ema minu juuksed ära. Juhtumisi kohtusime Hannoveris kuna Kaia võistleb siin. Sain 4 kuu vanusest pässakast lahti.
My manager Charles Paanakker and the competition organisers have done a lot to help out an Estonian guy. I will have a personal pacemaker. The another great thing was that I got and hair dresser in my hotel room. Our Estonian marathon champion Kaia Lepik's mom made it happen. I lost my 4 months old hair! 
The web page of the Hannover marathon is HERE
Minu varasem maratoni statsitika asub SIIN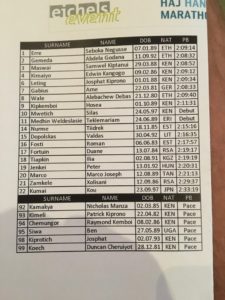 The elite runners in Hannover.

Eliitjooksjate nimekiri Hannoveris. NB! Roman Fosti ei osale haigestumise tõttu.
Maratoni Tokyo olümpianorm on ajaliselt 2.11.30. Lisaks on võimalik qualifitseeruda rankingu süsteemi alusel või finišeeruda kõrgetel kohtadel Gold Label või MMi võistlustel. 
The marathon Olympic qualification time is 2.11.30. Hopefully I get close to that!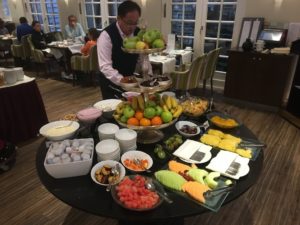 Hotelli hommikusöök enne maratoni.

The breakfast before the race at the hotel.
Tänan kõiki kaasaelajaid sellel suurepärasel teekonnal.
Thank you all who have been supporting me trough out this adventure.
Nimeliselt mainin ära minu praegused meeskonnaliikmed:

Here I bring out some names and sponsors:
Treener

(coach)
Mark Misch
Abitreener ja mänedžer
(coach and manager)
Harry Lemberg
Mänedžer
(manager)
Charles Paanakker
Vaimulik mentor
(spiritual mentor)
Brad Bartz
Massöör

(masseur)

Peeter Nigol
Spordiarst
id
(sports doctors)
Agnes Mägi
,
Nadezhda Ignatjeva
ja Mihkel Mardna
Abikaasa

(wife)

Maili koos lastega

(children)
SUURTOETAJA